The gathering spot in our apartment is not the fireplace (as if we had a fireplace) or even the TV; it's the window sill. The kids love to stand by the window and look out at all of the people and cars on Broadway. When Conrad was getting comfortable standing, he would stand bull-legged and lightly bang his hands on the window. I remarked that he looked like King Kong. Weston overheard this and said, "No…he's not King Con." I think this was Weston's way of reaffirming that he was next in line to be king. It sort of stuck because it fits with the rest of the kids' nicknames: Julia is always princess something or other (Princess Aurora, Princess JuJu, Princess Dandelion, etc.) and she decided early on that Weston was her Prince Syrup ("Syrup" was how Weston said, "Philip"), and I always just assumed that I was King and Claire was Queen. I guess I've been overthrown and Conrad has usurped the throne.
Oh, and by the way, his royal highness is walking all over the place now. And he sings, gives high fives, waves, and jabs with a pretend sword (complete with sound effects).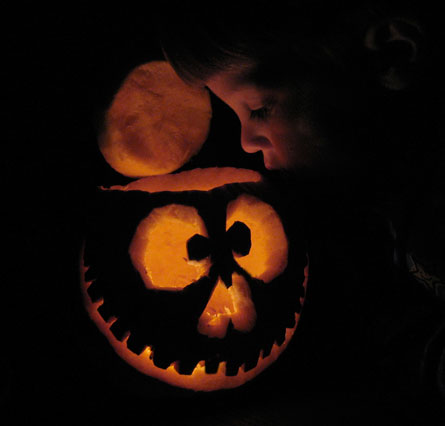 Weston peeping into our jack o' lantern.